PVM Manager Installation
PVM manager is a Windows interface to manage the Pouyesh Dadeh Company Virtualization System.
1. Download and Install the Program
In order to download the program, visit the following address:
Download the user interface of the PVM system. After downloading the compressed file, uncompressed the program and run setup.exe.
After running the program, in case .Net Framework package is required, setup would install it and the user interface.
After installing the program and running the corresponding icon, the window of username and password opens. Enter admin and pdnsoft as username and password to enter the program.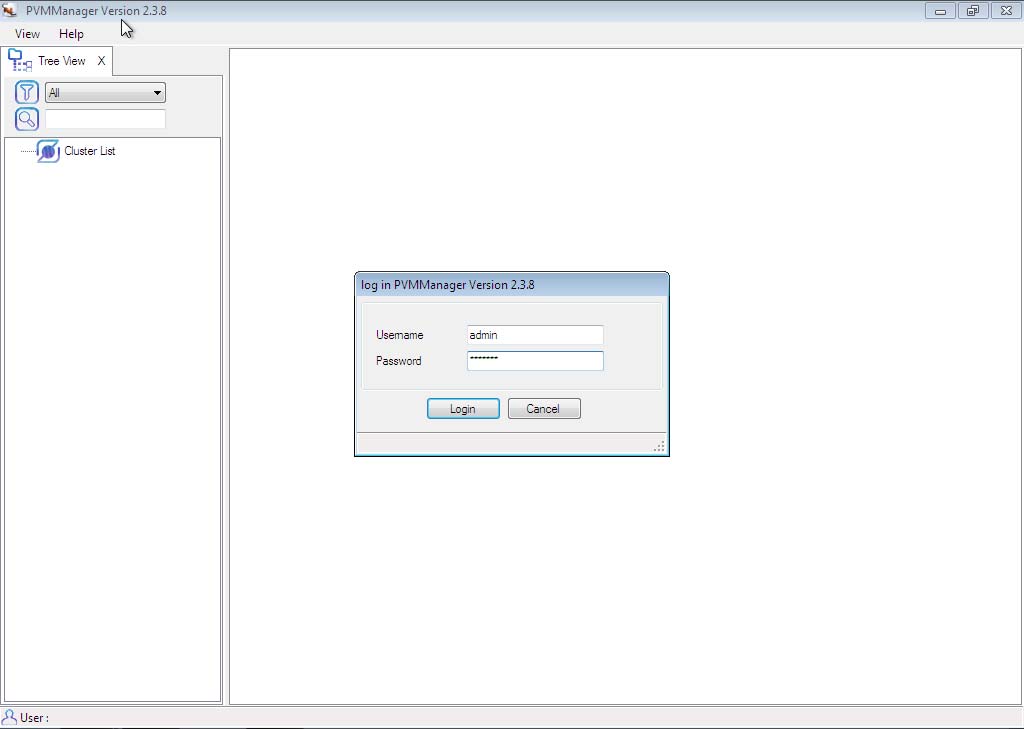 Fig.1: Entering the program
After entering the program, a new cluster should be defined. Press the icon related to adding a cluster.
Fill the server connection information in the corresponding form.
Cluster name
The IP of PVM server (this address is specified when configuring PVM in the "PVM interface" section, Follow PVM installation document)
SSH port that is 22 by default
Username and password are root and pdnsoft by default.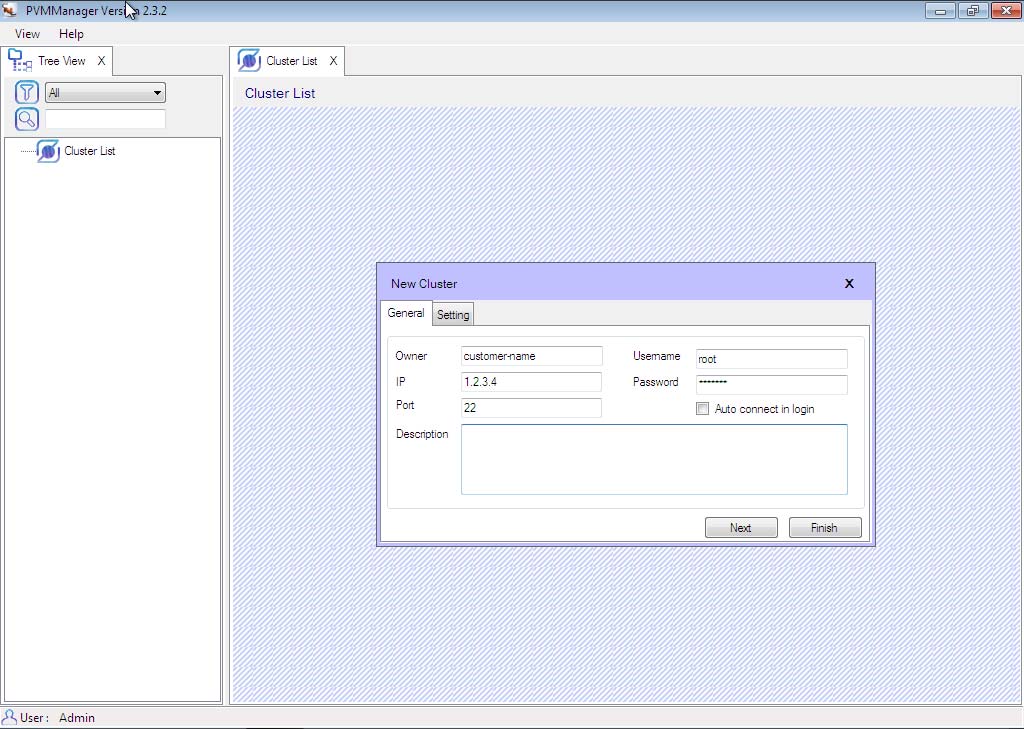 Fig.2: Creating a new cluster

After creating the cluster, double click on the cluster name or select the connection icon. Consequently, you are connected to the pvm server.
2. Request Trial License
In order to request the trial license, click on License icon and fill the request license section in the corresponding form. Enter your email address and name and click send email for license request. After several minutes, an email is sent to your address.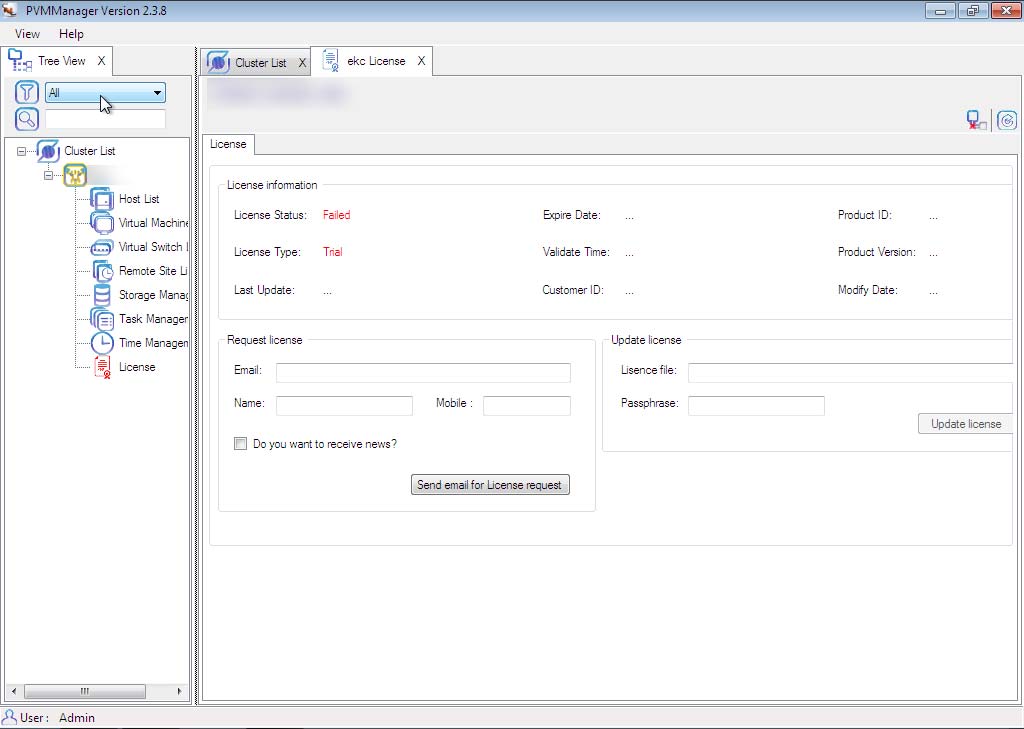 Fig.3: Request trial license
Load the email attachment in the update license section. There is a Pass Phrase number in the email text. Enter it in the corresponding window. Finally, click update license. Consequently, the license status is changed to Verified. Moreover, the host status in the Host List section is changed to quorate.
3. Trial Initial Settings
In order to use PVM, it is necessary to define a storage space for the information of virtual disks and CDs. In other words, a space should be determined to store the virtual machines.
It is recommended to use a separate disk to store the data. In the installation process, a partition called pvm was created and mounted. It is better to create the most disk space on this disk with the same name.
Run the following commands in the command line:
mkdir /pvm/VMs
mkdir /pvm/ISOs
Consequently, two directories are created. In the next stage, these two directories are used to store the virtual disks and ISOs.
In order to do so, click on Storage Management icon, click on add in the manage section, and define two storage spaces as follows: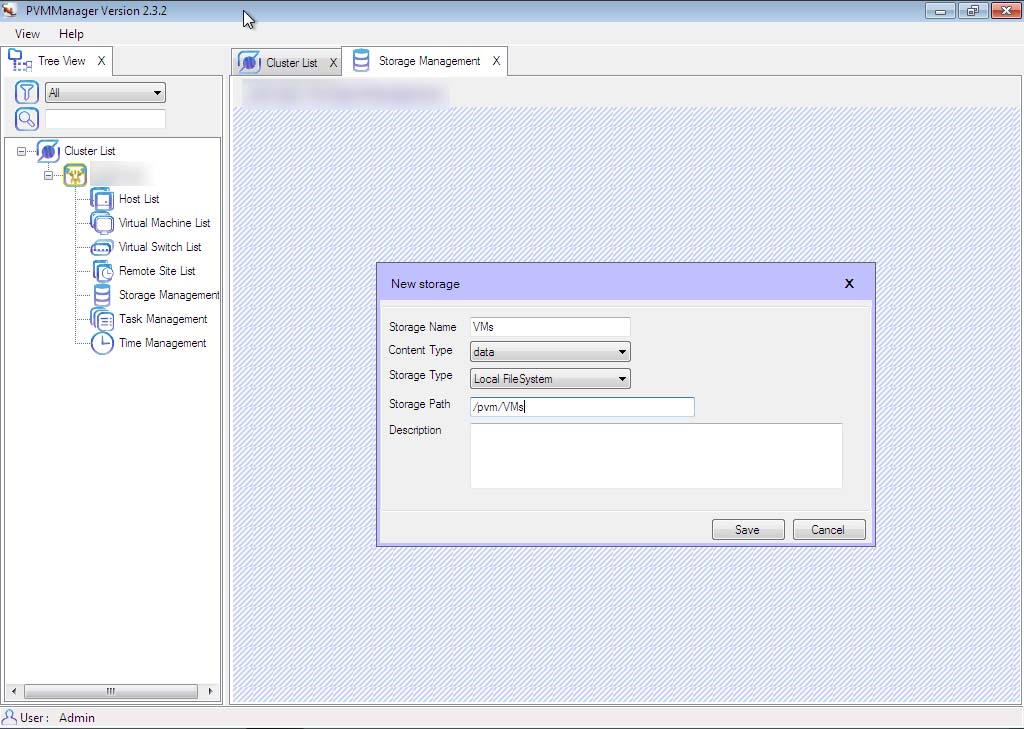 Fig.4: Determining the virtual machines storage space
1. Name:VMs - Storage Type: Local File System - Content Type:data - Storage Path:/pvm/Vms
2. Name:ISOs - Storage Type: Local File System - Content Type:iso - Storage Path:/pvm/ISOs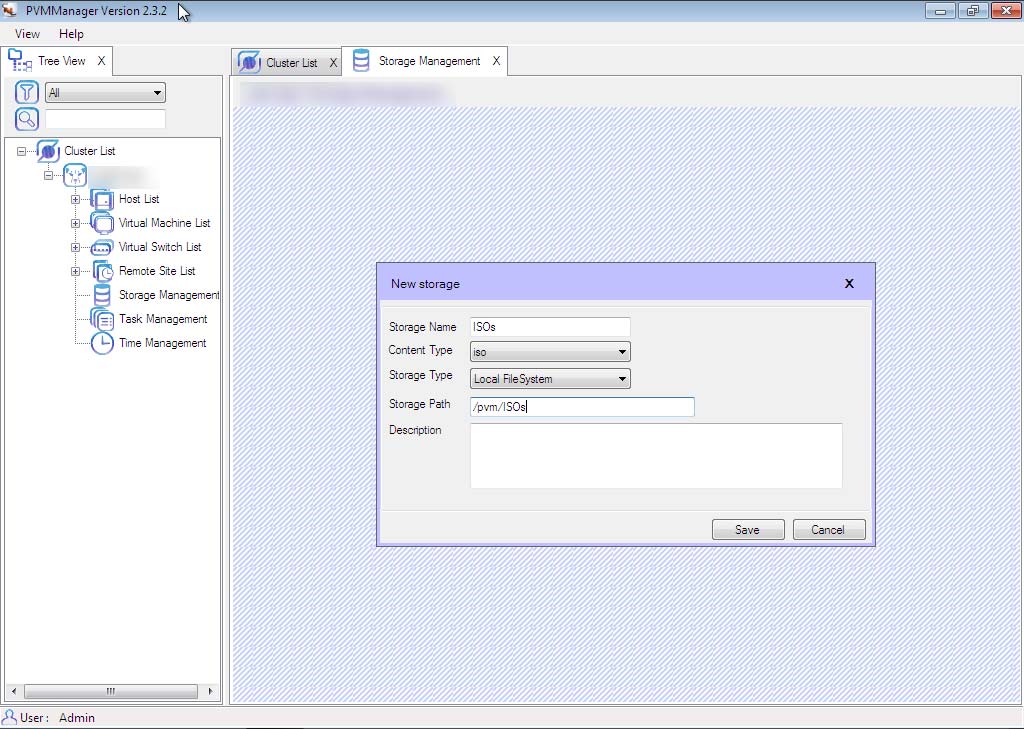 Fig.5: Determining the ISOs storage space